Managing your Investment Portfolio
Introducing the Mesh Portfolio View TLDR
To make managing your investment portfolio easier and more transparent, all Mesh clients have a full portfolio view connected to their Mesh blockchain accounts, where they can obtain an overarching view of their portfolio performance. You can simply and easily track your assets, investments, transactions, and deposits as well as perform all rebalancing.
Your Mesh Portfolio is unique as it combines true ownership directly from your blockchain account, and also acts as a fully functioning wallet.
What can you do with your portfolio?
View valuations, allocations and Profit and Loss (P&L) per portfolio, account, and asset;

Understand and control risk;

View balances and trades by each portfolio, account, and asset;

Transfer funds,

trade and submit orders easily; and

Make informed decisions on portfolio valuations over time periods.
Introduction
Getting started with investing is as easy as purchasing your first Bitcoin (BTC), Exchange Traded Fund (ETF), or any other asset on our marketplace. While some investors prefer to buy and hold the largest cryptocurrencies, others choose to experiment with shares. But what's the best way to do this? How do you know that your portfolio is performing well? When do you know what to sell and what asset specifically is performing badly?
You are more likely to succeed by thinking carefully about your asset allocation and balancing your portfolio on a monthly basis. There are a few ways to do this, depending on your risk tolerance. Managing your portfolio isn't hard, and the results can really pay off.
What is a portfolio?
A portfolio is a collection of assets owned by an investor or trader. Portfolios typically contain a variety of different assets. Your Mesh portfolio is similar to a traditional portfolio, the difference is that you can see all your asset classes in one place. Usually, you will have a portfolio for ETFs at your broker, shares on your share trader and crypto assets in your crypto wallet.
Your portfolio on Mesh will automatically track all your transactions and calculate your holdings, allocations, and performance across your entire portfolio. We also provide you with a view per account and per asset.
For our retail clients we will be introducing multi-account capabilities soon.
Your Mesh portfolio
Your Mesh portfolio provides you with insights such as "Did I buy or sell these instruments at the right time to make a profit?" or "How is the market affecting my investment?".
The portfolio view is a comprehensive representation of all activities related to your trading account(s) included in your portfolio: current holding, asset breakdown and transaction history.
In addition, it provides insights into how well your portfolio is performing by displaying various metrics, the most important of which is Profit and Loss (PnL). Mesh portfolio view also provides you with unique insights into blockchain specific events such as claimable balances and limit setting capabilities.
Every Mesh account is a blockchain account, with its associated key pairs, public and private. So when you transact, all transactions settle directly on the blockchain and you have true ownership of all assets in your account. Mesh protects all keys in the Mesh Vault which provides bank grade security for all our customers.
What is PnL?
PnL indicates how much, in your local currency, your portfolio has gained or lost since inception. PnL is affected by the change in value of your trading positions due to the associated asset price fluctuations. For DeFi instruments this price fluctuation is taken as the average trade price history (from an aggregation of on-chain trades) while for TradFi instruments it is taken as the quote price history (as provided by the market maker).
Portfolio valuation, diversification, and allocations
When starting to invest, you should be familiar with the concepts of asset allocation, valuation, and portfolio diversification.
Asset allocation refers to investing in different asset classes (e.g., cryptocurrencies, stocks, bonds, precious metals, cash, etc.). This is shown in a pie chart with each asset as a percentage of the whole. This is calculated by determining what percentage of your entire portfolio value is attributed to a single asset. Each asset which you own contributes to your Portfolio valuation. This is important as it is an indicator, together with your risk profile, of whether you are putting too many eggs into the same basket.
The portfolio metrics include a valuation history graph that shows how the value of your portfolio has changed over time (using the same historical prices as the PnL).
Diversification relates to the distribution of investment across different assets or sectors. For example, you could diversify your exposure by investing in different industries, such as agriculture, technology, energy, and healthcare.
Diversification is used to distribute your risk over various assets, companies, industries, and countries, hopefully to make your portfolio more immune to sharp movements in the market. There are pros and cons to distributing your risk across different asset classes and your decisions on the level of diversification depends on your end goal and your risk profile.
Mesh offers a diverse set of assets, industries, asset types and risk profiles to help you manage your asset exposure and to diversify your investments easily.
Asset breakdown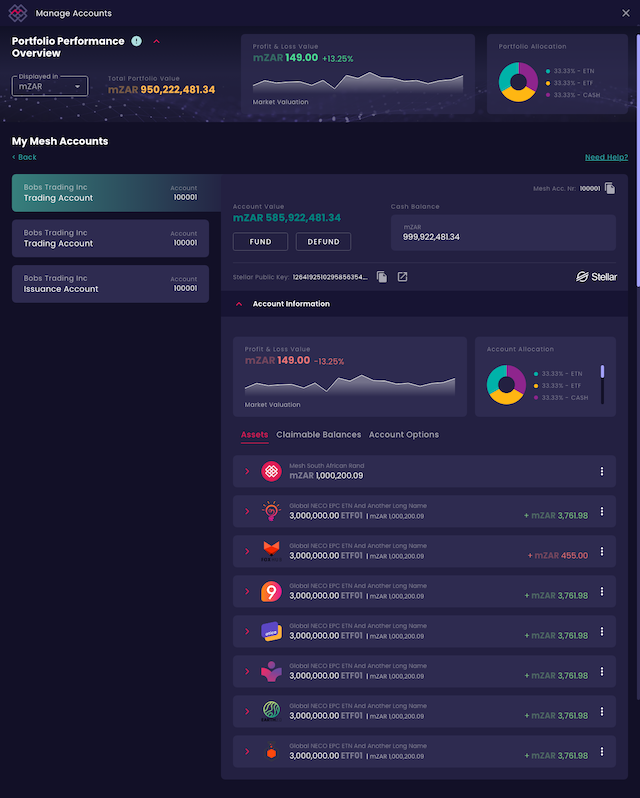 In the asset list, an asset balance is given per asset as well as the equivalent valuation in mZAR. PnL per asset is also displayed. This gives you the change in valuation of that asset, based on price movement, from account inception and takes various buying and selling points into consideration. This gives you an indication of how each of your assets are performing. Expanding the asset view provides you with asset weighting, as described in Asset Allocation.
From the asset list view, you may choose to open the asset detail view, to see more information on the asset that you hold.
Apart from the portfolio metrics, the Mesh portfolio provides you with insight into your account activities, including cash balances, account statement, transactions per asset and claimable balances. Currently, the Stellar blockchain is the source of truth for all assets on the platform, but Mesh was built to be blockchain agnostic, so we will be integrating with other blockchains in the near future.
Any token that is underpinned by Fiat currency, is classified as a cash balance. Per account, the cash balances are displayed to give you an indication of the token balance for each of the fiat-based StableCoins that you hold.
Because all trading on Mesh is on-chain, it is possible to open your account on the Stellar network and see the activity on the Stellar network. That means buying, selling and transfers can be viewed directly on the Stellar network.
Claimable Balances
The Stellar network works on trust, meaning that you first have to decide if you want to own a specific asset before it is allowed to settle to your account. When placing direct orders or spot trades, you are indicating that you want to own that asset. But, when someone transfers any asset to you on the Mesh Platform, it will not automatically trusted or be seen in your asset list. To view the assets which must be claimed, simply select the Claimable Balances tab in your account. If you choose to trust the asset, it will be added to your asset list, and you will hold that balance.
In Summary
Your portfolio consists of all your holdings, in one place. Understanding your portfolio and what is happening in it does not need to be complex. This first step is to consolidate your investments and view them in a single place, the Mesh portfolio view. From here you can track the value of all your assets and their performance. The more assets you have in your portfolio, the more diversified it is. A diversified portfolio typically has a lower risk compared to a single asset holding portfolio.
You shouldn't expect to receive above-market returns from every asset in your portfolio, but if you diversify your holdings and choose well, enough of your investments should succeed to result in your portfolio steadily gaining value over time.
Want to stay in the know on upcoming events and seminars?
- Pending Fresh Sign Up Form
For more press information, please contact:
Welcome to the future of investing.
Welcome to
Mesh

.